Everyday Express Foldable E-Bike (OPEN BOX)
Regular price
$1,100.00 CAD
Regular price
$1,600.00 CAD
Sale price
$1,100.00 CAD
Unit price
per
Sale
Sold out
** "PICK UP" ONLY available at this time **
What do you need to know about our Open Box and Refurbished inventory?
Well, first we have a limited quantity and they typically sell quickly. Second, we have a range of conditions from brand new to test ridden, which just means savings for you. Typically an open box might have some scuffs or a small scratch from shipping back to us, which is reflected in the price. A refurbished bike will need to have some parts replaced, but is in otherwise perfect working condition. Finally, all of our open box and refurbished bikes have gone through a full inspection, and come with a limited 1 year warranty on the bike components, motor and battery. And just like the car you might be trying to replace, components that wear out like brakes and tires are not covered by the warranty, but you can always call us for parts. 
Meet the Express! Big enough to replace your car with and folds small enough to fit into the car you're thinking about replacing. This little workhorse is powered by a removable 36V 12Ah lithium-ion battery that drives a 350W rear hub motor, and features 3 different levels of pedal assist, with a throttle.
So, what is Pedal Assist, you ask? Exactly what it sounds like – when you pedal the bike with the one of the 3 assist levels selected, the pedal sensor will activate the hub motor and supply power to the back wheel, propelling you forward. When you stop peddling, the pedal sensor cuts power to the hub motor. At Level 0, there is no pedal assist enabled, and then 1 through 3 are consistently increasing assistance levels, all the way up to 32km/h. If you are outside of the speed range for the current level, the hub motor will cut power until you drop back into the speed range or select a higher level. Don't want to pedal at all? No sweat, literally. The Express features a throttle that will get you moving from a standstill. Just press the throttle lever, and off you go. Let go of the throttle lever, and power to the hub motor is instantly cut turning the power back to your legs.
Riding a pedal assist electric bicycle is not like any other experience you have had on a bike. You can ride easier, ride further, and have way more fun.
Folded dimensions: 16"W x 36"L x 28" H
Weight: 58 lbs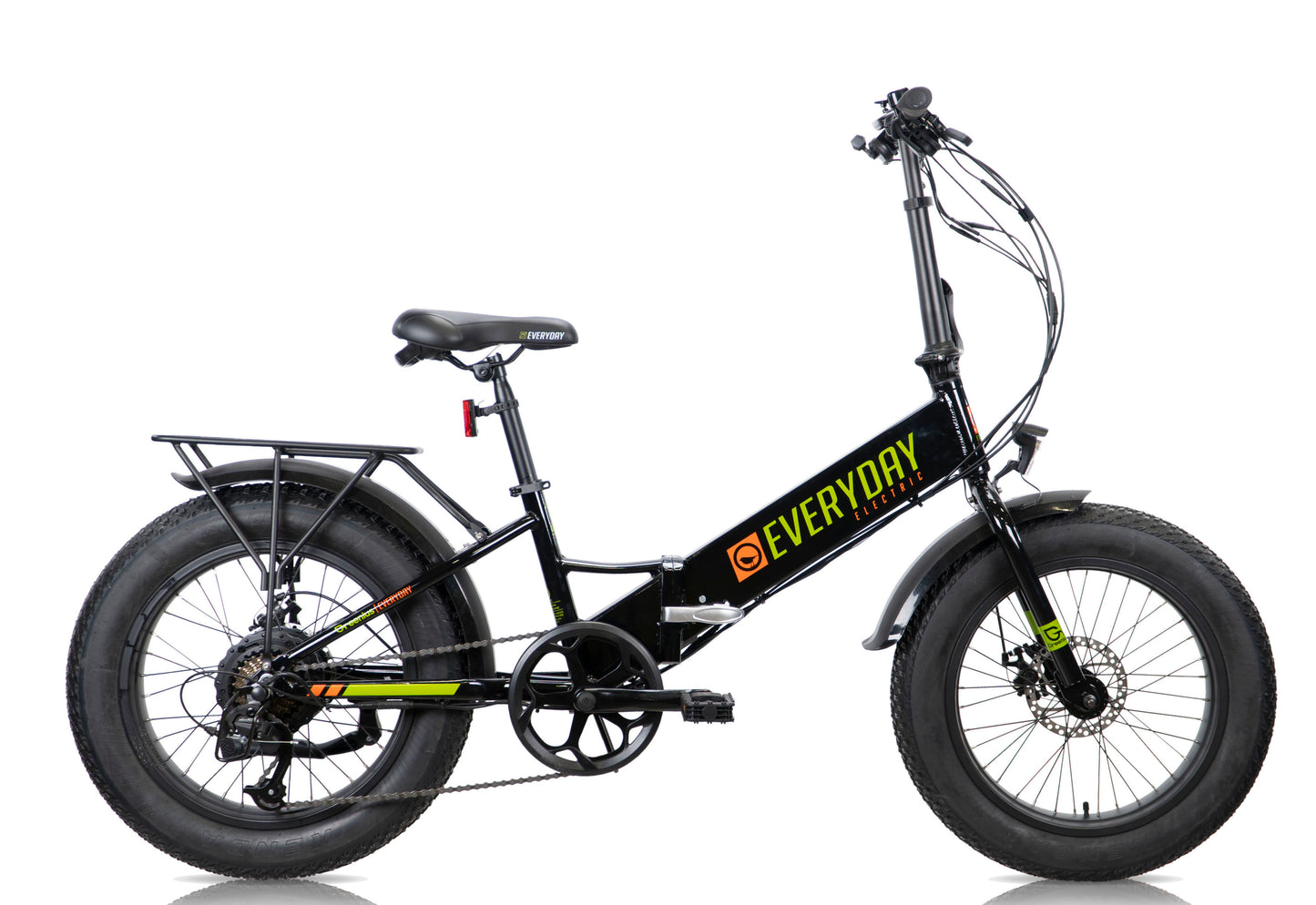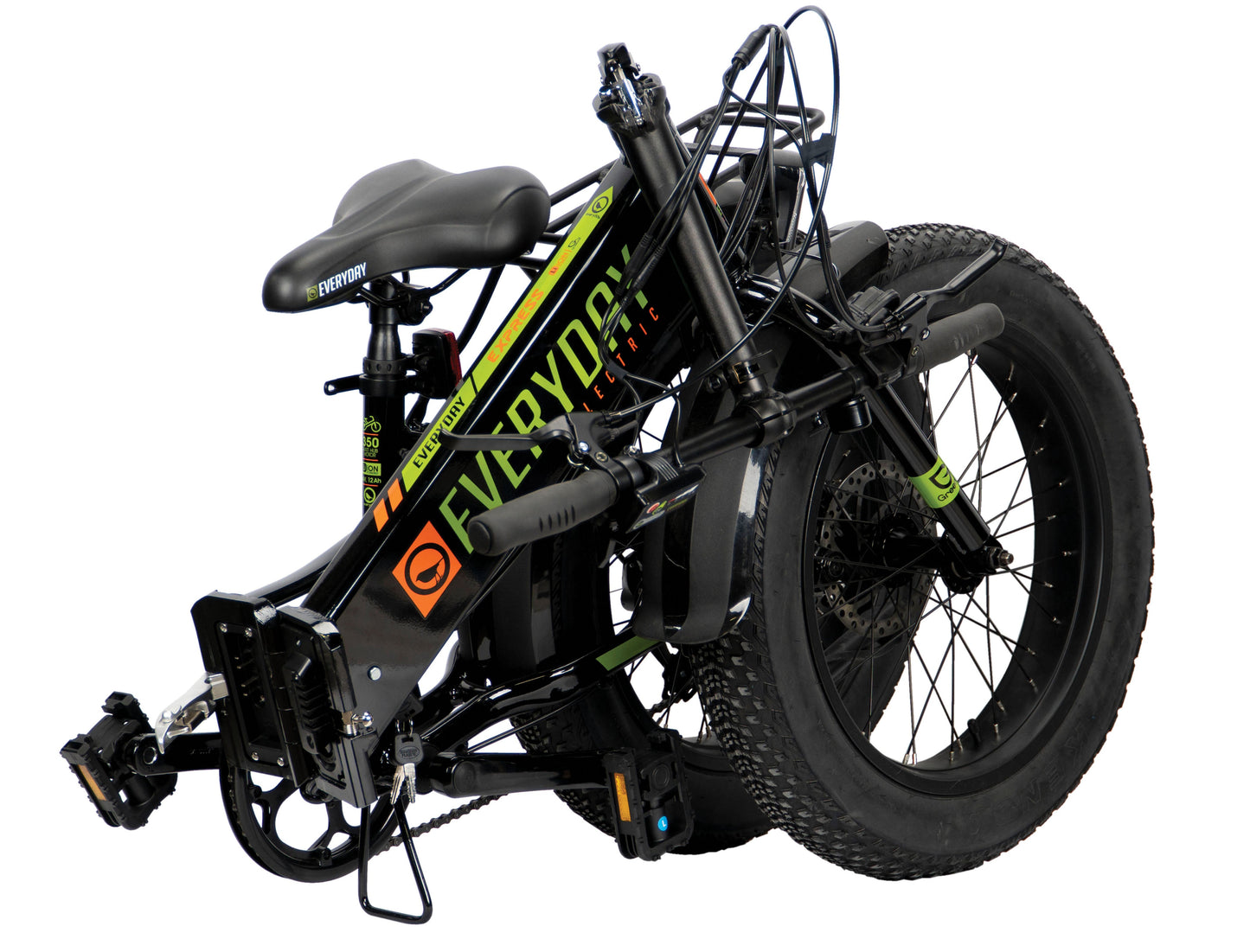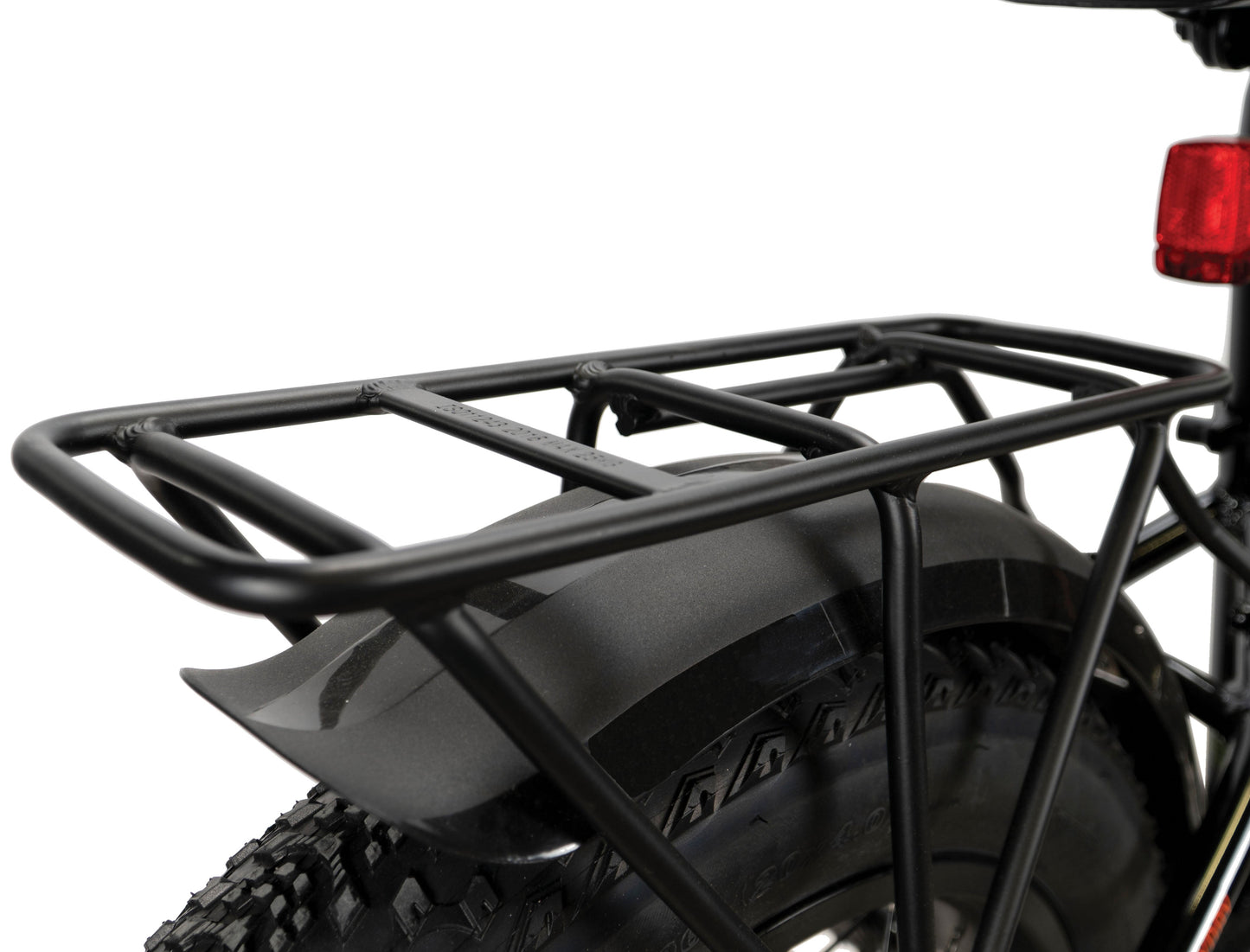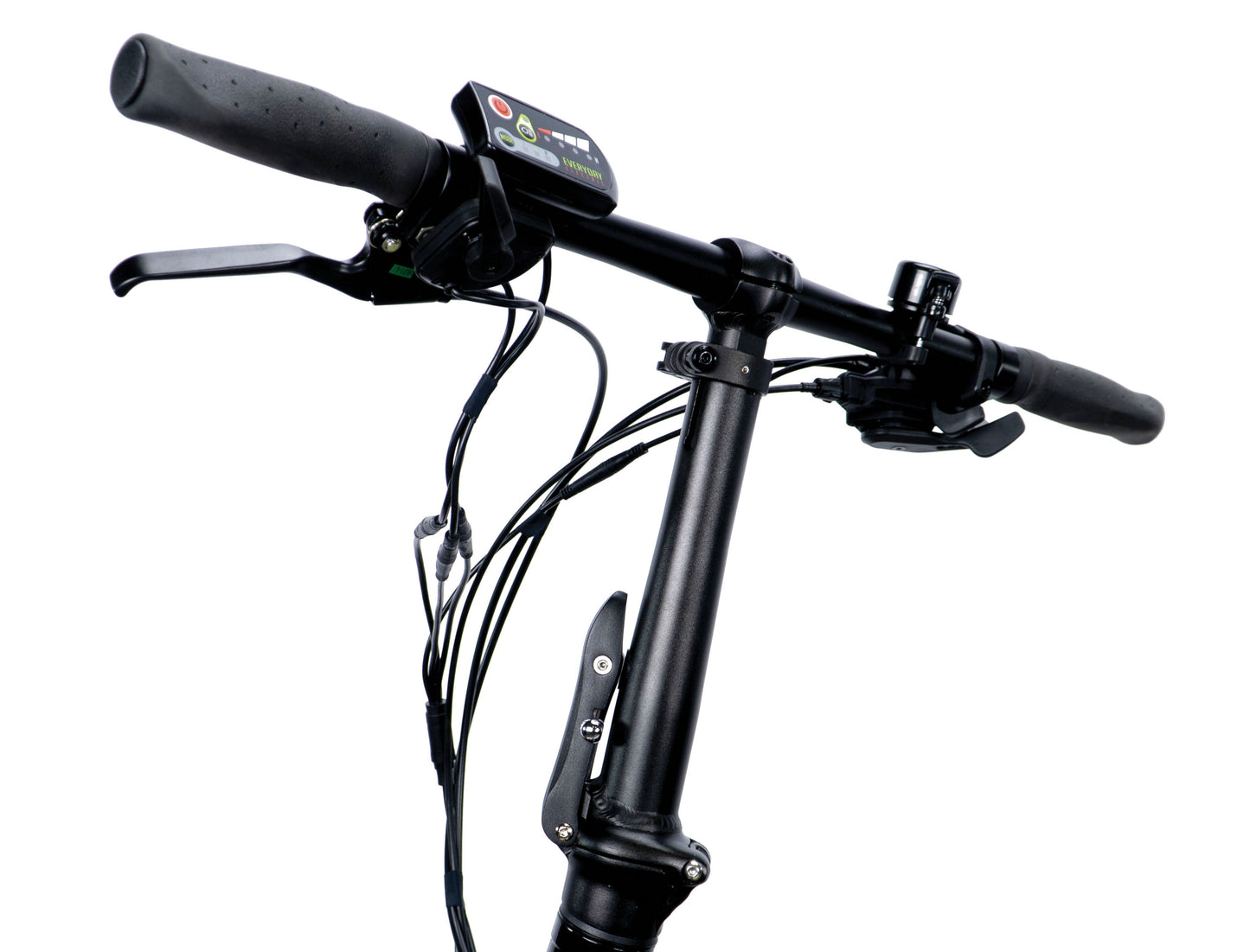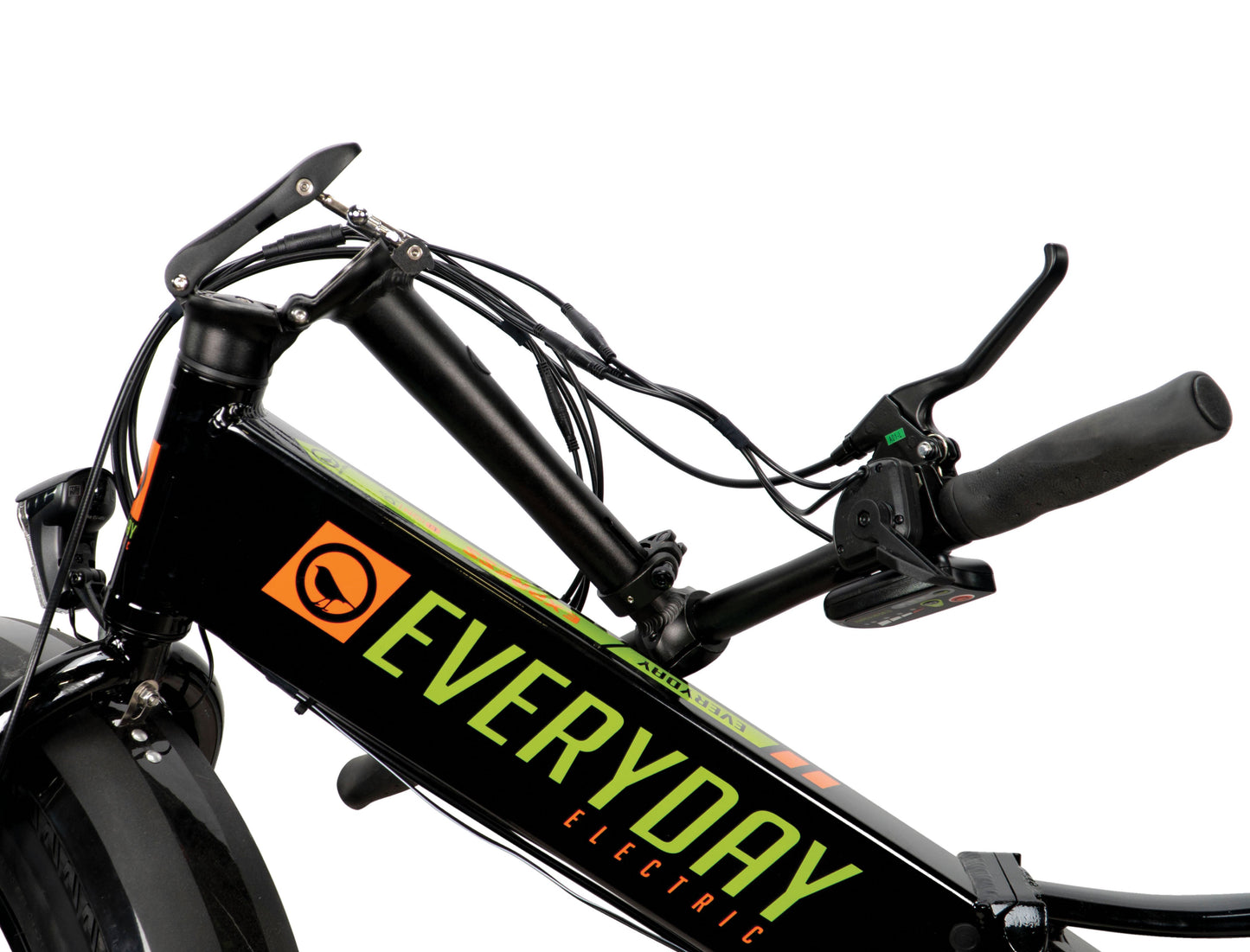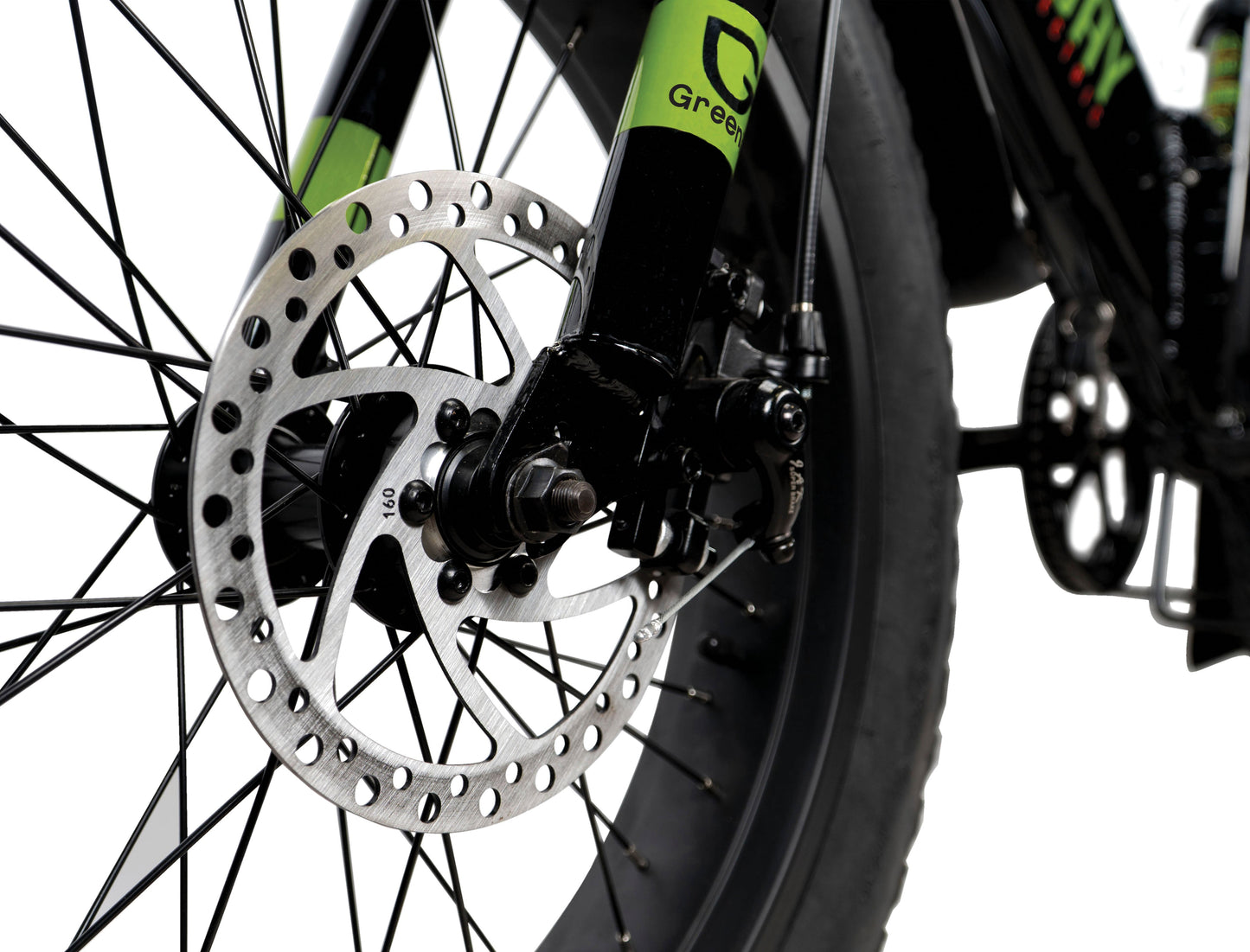 350W HUB MOTOR
The 350W hub motor is a great balance between power and efficiency. Doesn't matter if you are hauling cargo or just hauling your butt to the gym, this is the right setup.
REMOVABLE BATTERY
The convenience of a removable battery can never be understated. Buy a second one to swap out while the other one is charging, or bring it inside with you so that you don't have to bring the whole bike inside. Simple equals more fun.
QUICK FOLDING DESIGN
There is a lot of design packed into a small package like this. Looking for a Last Mile solution that fits in your trunk? Want to be able to tuck your bike into a corner somewhere at home? Flip down the handlebars, flip down the pedals, open the frame latch and fold the frame in half. Voila. There is a reason we called it the Express.
Collapsible content
SIZE AND FIT
TECHNICAL SPECIFICATIONS

| | |
| --- | --- |
| Motor | 350W rear hub motor |
| Battery | 36V, 12AH lithium-ion battery |
| Max Range | 40-80 km |
| Max Assist Speed | 32 km/h |
| Pedal Assist | 3 level pedal assist (Low, Medium, High) |
| Display | IPX6 Rating |
| Charge Time | 4 to 6 hours |
| Charger | 2A CE/UL |
| Wheels | 20" x 4" Tires |
| Brakes | Front and rear disc brakes |
| Lights | Front LED headlight and rear LED light |
| Cranks | Prowheel 170mm alloy |
| Weight Limit | 275 lbs |
| Bike Weight | 58 lbs |
PRODUCT FAQ

What's the warranty?
Your bicycle comes with a non-transferable 1-year warranty covering the frame, motor, battery and charger, as well as the electrical and non-electrical bicycle components. We want you to keep riding and enjoying your bike, so if you have a problem, please reach out to us anytime so we can help.

Is the battery replaceable?
Yes. The battery is removable for storage, charging and replacement. Additional batteries are available at a cost of $349.99 plus tax.

What is the lifespan of the battery?
The typical industry expectation for this type of battery is around 500+ complete charging cycles before the capacity of the battery to hold a full charge starts to become diminished (in the same way that a smartphone battery diminishes from full charge to 95% capacity).

What happens if the battery runs out and I'm not at home?
An electric bike is a bike first and foremost. When the battery runs out of power and you aren't near the charger, it is still a fully functioning bike, just without the power assist. If the battery runs out, you can still ride your bike like you would any normal bike. It's just not as much fun!

How do I remove the battery?
The key cylinder is located on the bottom of the frame. There are three key positions: (1) parallel with the frame turns the battery on, (2) turn it 1 stop to the left to turn the bike off and cut power to the battery, and (3) turn it 2 stops to the left to unlock the battery. In all three of these positions, the key can be removed. When removing the battery, the frame clamp must be open, and the key must be removed for the battery to slide out of the frame.
DOCUMENTATION