Everyday Exploit 2.0 E-Bike
Regular price
$1,800.00 CAD
Regular price
Sale price
$1,800.00 CAD
Unit price
per
Sale
Sold out
How do you make a great bike even better? It's a tall order, but the Exploit 2.0 gives it a great effort! This alloy E-bike is powered by a 36V lithium-ion battery that drives a 250W rear hub motor, with a simple 5 level pedal assist controller to keep you moving. The 21 speed Microshift drivetrain ensures that you are always in the right gear, and the low profile LCD display gives you all the info you need to know about your battery level, speed, or distance travelled.
So, what is Pedal Assist, you ask? Exactly what it sounds like – when you pedal the bike with the one of the 5 assist levels selected, the pedal sensor will activate the hub motor and supply power to the back wheel, propelling you forward. When you stop pedaling, the pedal sensor cuts power to the hub motor. At Level 0, there is no pedal assist enabled, and then 1 through 5 are consistently increasing assistance levels, all the way up to 32km/h. If you are outside of the speed range for the current level, the hub motor will cut power until you drop back into the speed range or select a higher level.
Riding a pedal assist electric bicycle is not like any other experience you have had on a bike. You can ride easier, ride further, and have way more fun.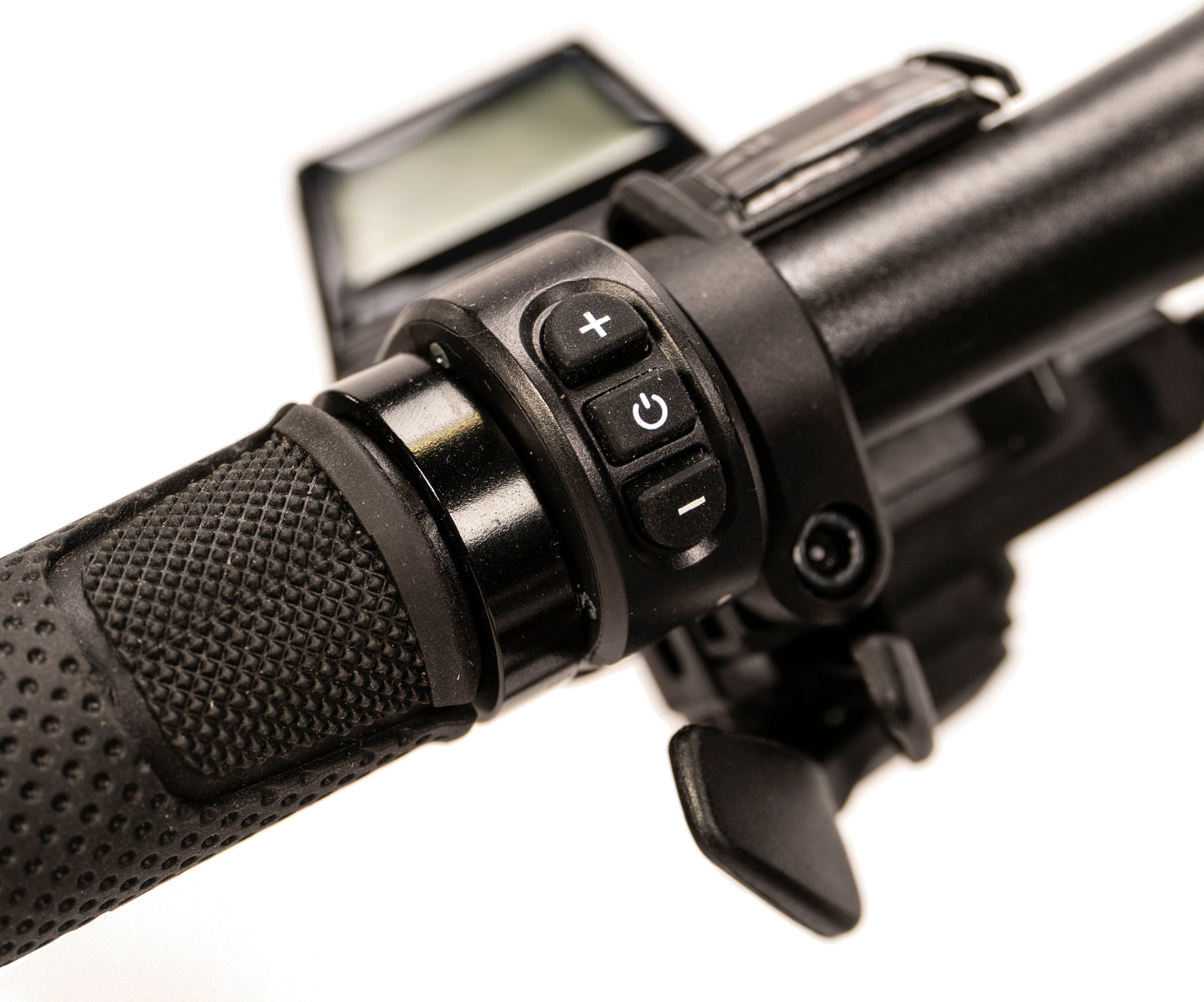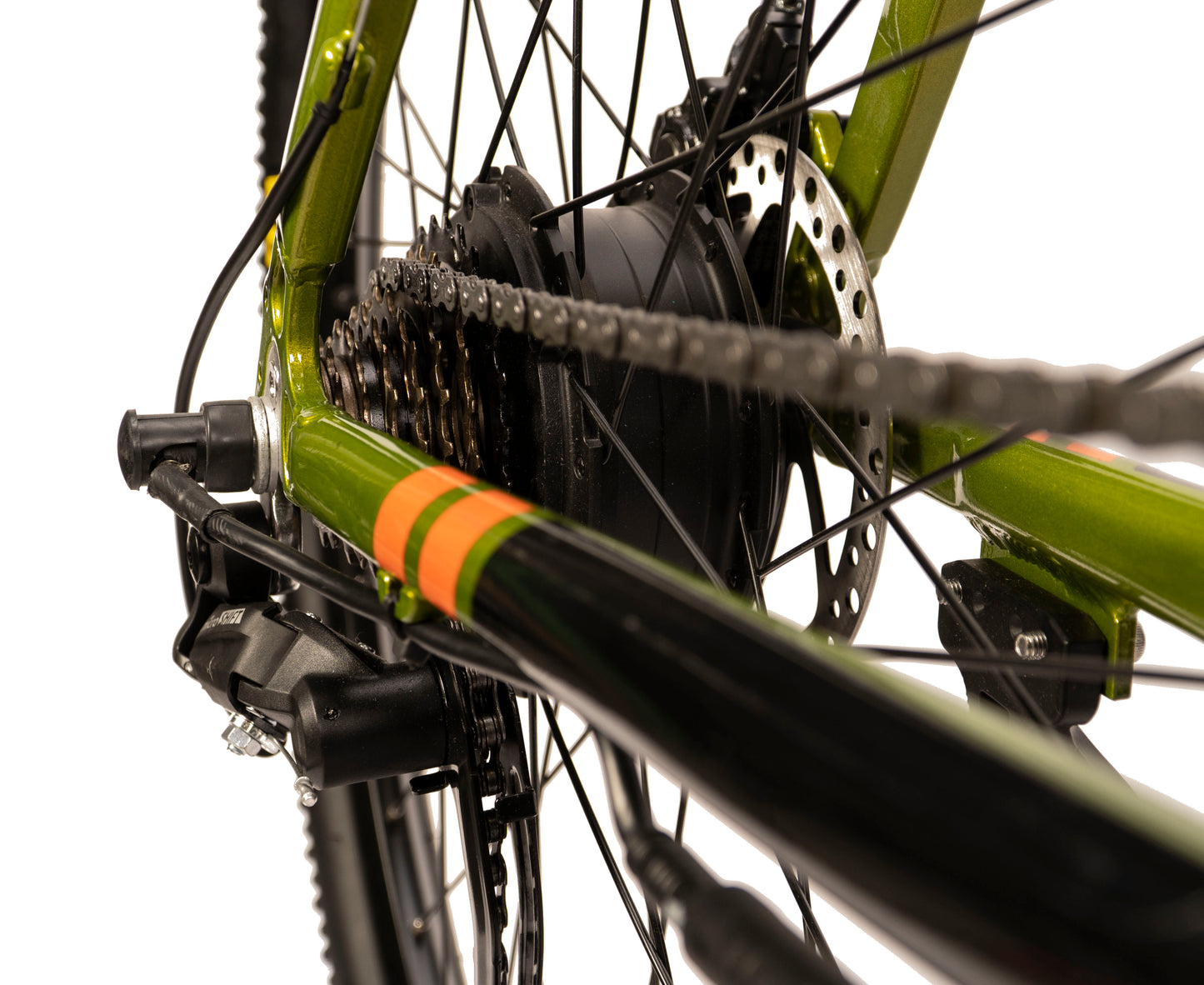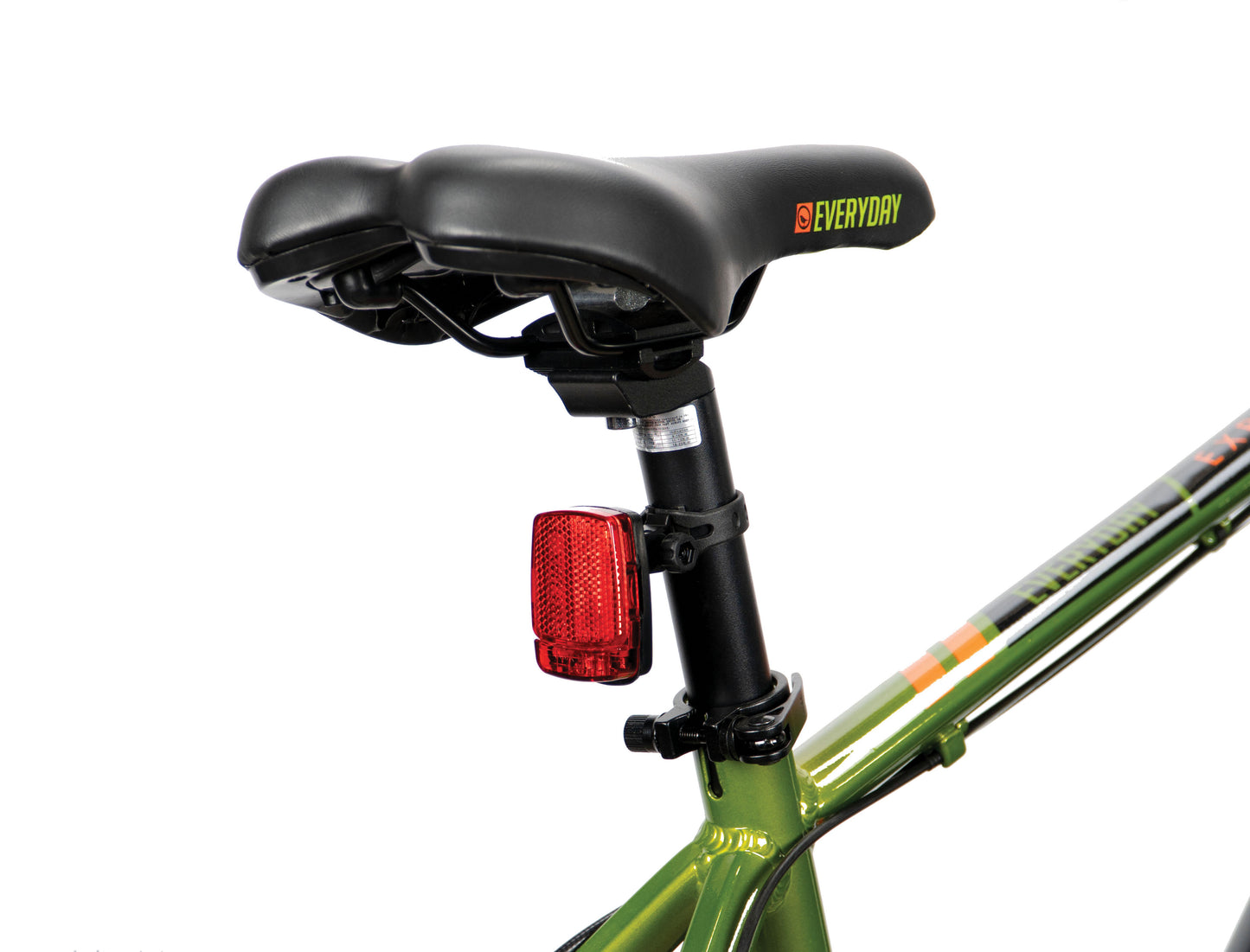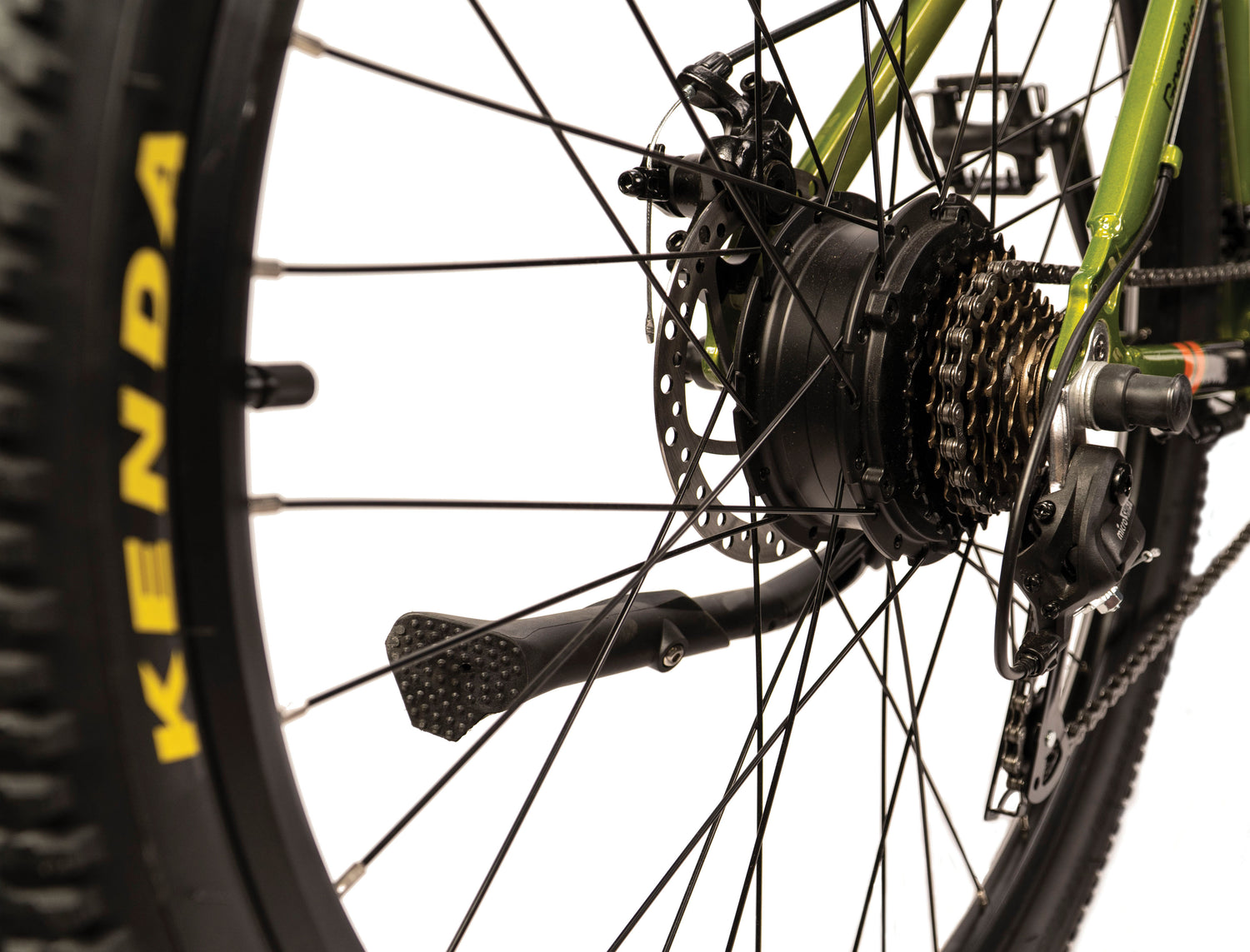 EFFICIENT HUB MOTOR
The 250W hub motor provides the power needed the second you ask for it. And the first time you try it, you'll be asking for seconds like it's Nana's famous mashed potatoes!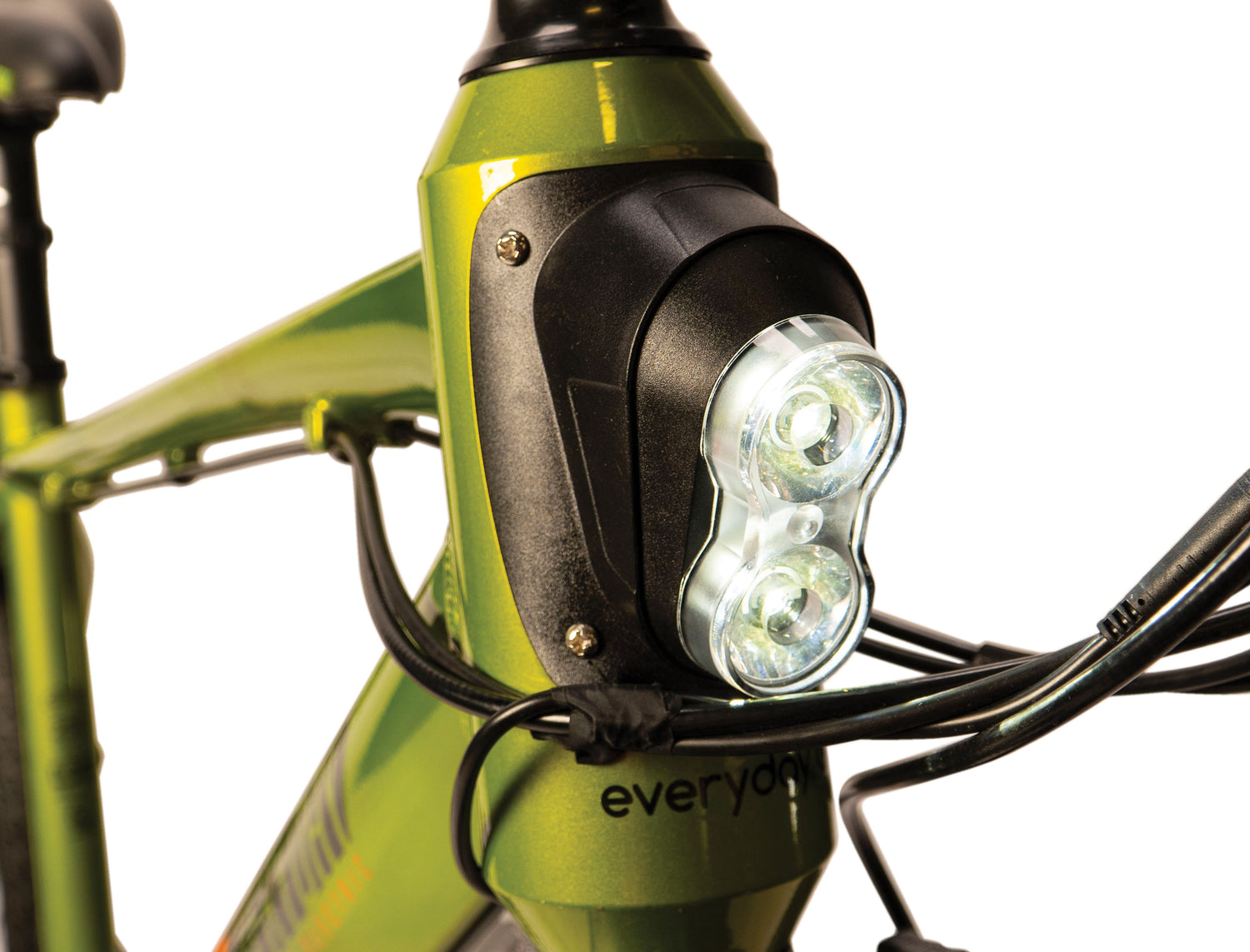 INTEGRATED HEADLIGHT
No need to charge it, no need to find it, and no need to adjust it. Its always there to light the way. And it looks pretty cool, too.
LOCK-OUT SUSPENSION FORK
Any kind of suspension fork consumes the energy you are putting out, like when riding up a hill. When you're bombing down that hill and don't want your fillings to shoot out of your mouth, it's a good thing. Climbing? Riding a paved path? Lock out the suspension with a simple flip of the switch, and your bike becomes that much more nimble and you get to keep the extra energy.
Collapsible content
SIZE AND FIT
TECHNICAL SPECIFICATIONS

| | |
| --- | --- |
| Motor | 250W rear hub motor |
| Battery | 36V, 8.7AH Concealed lithium-ion battery |
| Max Range | 30-48 km |
| Max Assist Speed | 32 km |
| Pedal Assist | 5 different levels of pedal assist |
| Display | 5 Level pedal assist display |
| Charge Time | Up to 6 hours |
| Charger | 2 A CE/UL |
| Wheels | 27.5" Kenda All Terrain Tires, Front quick release |
| Brakes | Font and rear disc brakes |
| Lights | Front LED headlight and rear LED light |
| Cranks | Prowheel 170 mm Alloy |
| Weight Limit | 300 lbs |
| Bike Weight | 52 lbs |
PRODUCT FAQ

What's the warranty?
Your bicycle comes with a non-transferable 1-year warranty covering the frame, motor, battery and charger, as well as the electrical and non-electrical bicycle components. We want you to keep riding and enjoying your bike, so if you have a problem, please reach out to us anytime so we can help.

Is the battery replaceable?
The battery is removeable for replacement but should not be removed from the bike for charging. The battery should only be charged while properly and securely installed in the bicycle. Replacement batteries are available for a cost of $249 plus tax.

What is the lifespan of the battery?
The typical industry expectation for this type of battery is around 500+ complete charging cycles before the capacity of the battery to hold a full charge starts to become diminished (in the same way that a smartphone battery diminishes from full charge to 95% capacity).

What happens if the battery runs out and I'm not at home?
An electric bike is a bike first and foremost. When the battery runs out of power and you aren't near the charger, it is still a fully functioning bike, just without the power assist. If the battery runs out, you can still ride your bike like you would any normal bike. It's just not as much fun!
DOCUMENTATION